Equal Access to Justice and Prevention of Bias Committee
Equal Access to Justice and Prevention of Bias Committee
WELCOME MESSAGE FROM PRESIDING JUDGE MARIA D. HERNANDEZ
As the third largest court in California and the sixth largest court in the nation, the Orange County Superior Court is committed to ensuring the integrity and impartiality of the judicial system and to court interactions free of bias and the appearance of bias. Consistent with this commitment, our Court works within our community to evaluate and improve dialogue and engagement with members of various cultures, backgrounds, and groups so we can better serve all persons who interact and rely on our court system.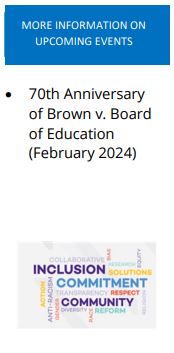 MISSION STATEMENT
We, the Judges and Commissioners of the Orange County Superior Court, remain committed to providing fair and equal justice under the law for every person who enters our courthouse doors regardless of race, ethnicity, gender, religion, socioeconomic status, sexual orientation, or identity. We will vigilantly work to ensure that equality and inclusion is a reality for all, every day in our court.
WHAT ARE WE TRYING TO ACCOMPLISH?
Under the leadership and direction of the Hon. Richard Y. Lee, Chair of the Equal Access to Justice and Prevention of Bias Committee, the Orange County Superior Court developed a comprehensive diversity and inclusion collaboration with legal aid and include local bar associations to support less experienced and underrepresented attorneys so they can gain valuable litigation and courtroom experience. The committee's goals are to:
Creating opportunities
Promoting access to a broad range of attorneys from all backgrounds
Providing courtroom experience
Inspiring future generations of attorneys who represent every facet of our society
WHAT ARE WE DOING?
Training and Programs
The Education Subcommittee strives to raise awareness amongst the judiciary, its justice partners, and the community on issues concerning the Court's efforts toward elimination of bias, ensuring equal and equitable justice, and fair access to the courts and inclusion. The subcommittee will implement educational workshops, forums, and promotional means to accomplish these goals as well as provide an understanding of individual experiences.
Judicial Mentor Program
CLICK HERE TO APPLY
Implicit Bias Training
70th Anniversary of Brown v. Board of Education Celebration (February 2024)
EQUAL ACCESS TO JUSTICE AND PREVENTION OF BIAS COMMITTEE
Richard Y. Lee, Chair
Member, Presiding Judge Maria D. Hernandez
Member, Assistant Presiding Judge, Cheri Pham
Member, Judge Craig E. Arthur
Member, Judge Fernando Valle
Member, Judge Israel Claustro
Member, Judge Juliet Macaulay
Member, Judge Michele Bell
Court Executive Administration Representative, David Yamasaki
Court Human Resources Representative Heather Riel, Manager, Employee and Labor Relations
Court Facilities Representative, Anthony Palumbo, Manager, Court Facilities
Deputy General Counsel, Robin Brandes-Gibbs
Orange County Bar Association
OCBA President, Michael Gregg
OCBA Past President, Daniel Robinson
OCBA, Member, Shirin Forootan
Affiliate Bar Associations
Community Representatives
QUESTIONS: CONTACT THE COMMUNITY ENGAGEMENT OFFICE AT CommunityEngagement@occourts.org