Serving As Jurors - Reporting Jurors
Important Message from the Jury Commissioner
Jury staff of the superior courts do not ask past or prospective jurors for information regarding credit card, bank account information and Social Security numbers. Please do not provide this type of information to anyone claiming to be associated with Jury Services. Please contact our office if you receive this type of request.
Call-In Jurors
Prospective jurors are summoned as Call-in Jurors. Call-in Jurors receive a summons that instructs them to call our office after 5:00 p.m. on a Friday.
As a Call-in Juror, you may be instructed to call the recording every day, beginning on your summons day, a Friday, and continuing for no more than 5 court days.
Please check your jury summons to verify the Justice Center to which you are assigned and make sure to check the instructions for the correct location. Group Numbers for jurors summoned as Call-in Jurors are in the range 5000 to 5999. 
Image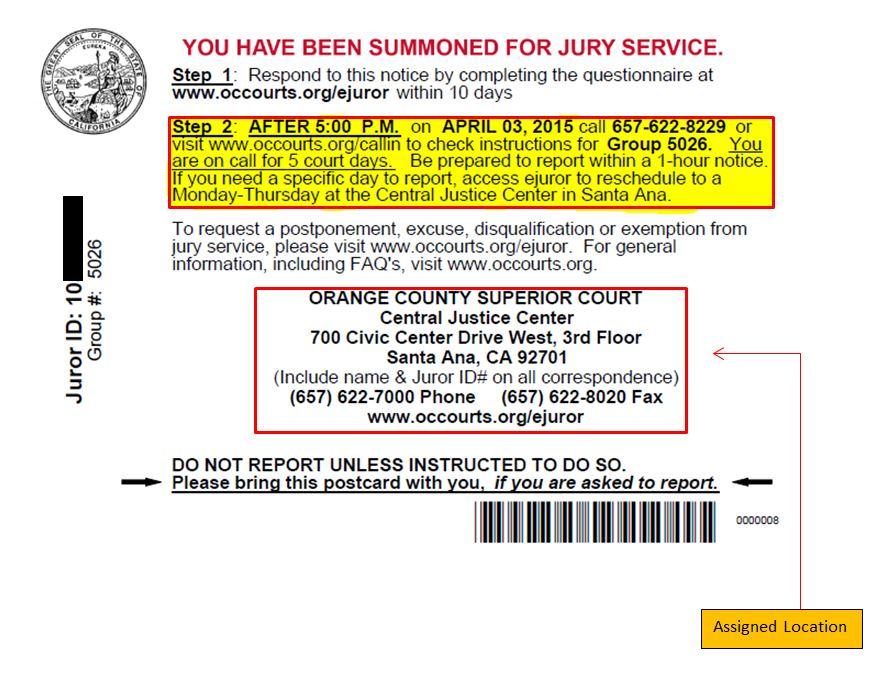 If your summons instructs you to call our office after 5:00 p.m. on a Friday, click here
Jury Services Day at Justice Center Locations
Click on a Justice Center to find out how a typical jury service day will proceed.